MicroTech Medical: "we're quite satisfied with the assembly service provided by PCBCart"
Customer Profile
Customer Name: MicroTech Medical
PCBA Product: Motherboard
Application: Patch Insulin Pump
Product Property: Wearable Device
Product Industry: Medical Care
MicroTech Medical specializes in development, manufacturing, sales and maintenance of Category II and III medical equipment. Owing to its internationalized management team and excellent core technology team that mainly comes from Silicon Valley, MicroTech Medical has become a creative high-tech enterprise manufacturing medical equipment used to monitor and cure chronic disease like diabetes. Its Equil? patch insulin pump has been used as an iniatiated artificial pancreatic system topping the world list.
Background
Product reliability has been what MicroTech Medical concerns most. However, a patch of assembled PCBs manufactured by its previous CM suffers from low yield and component soldering defects, which directly reduces the performance of MicroTech medical products. Therefore, MicroTech Medical had been searching for reliable electronics manufacturer until PCBCart was selected.
At the very beginning, PCBCart was selected to rework badly-performed BGA. MicroTech Medical noticed PCBCart's PCBA manufacturing capabilities and high quality requirement during the cooperation, they submitted a medical motherboard SMT assembly job to PCBCart, which indicates the authentic cooperation for the sake of optimal performance of products.
MicroTech Medical's PCBA Demands
This type of motherboard calls for high assembly density and different component types that are as many as 90 among which 0201 alone covers as many as 32 types. Moreover, this project contains a couple of high-complexity components placement, that is, TPS65217DRSL (0.4pitch QFN), TLV320AIC3106IZQE (0.5pitch BGA), MT29F2G08ABAEAH4-IT:E (0.8pitch BGA), AM3354BZCZ100 (0.8pitch BGA), BG connectors etc. Furthermore, 100% underfill gel is also applied.
The specific capabilities are summarized in the following table.
| | |
| --- | --- |
| Item | Capability |
| PCB Size | 100mm×100mm |
| Min. Hole | 0.2mm |
| PCB Thickness | 1.0mm |
| Surface Finish | ENIG |
| Order Quantity | 1000 |
| Single/Double Side | Double Side |
| SMD Type | 90 |
| BGA/QFN/LCC Type | 4 |
| Min. BGA Pitch | 0.4mm |
| Min. Component Size | 0201 |
| Underfill | Yes |
| Depanelization | Yes |
| Test | Yes |
In terms of high-complexity component placement, the following solutions are carried out.
Quote and Order Procedure at PCBCart
Step#1: MicroTech Medical submits a quote using PCBCart's online quote system.
Step#2: Pricing is given by PCBCart within short time and online order instructions are provided to MicroTech Medical.
Step#3: As soon as order is successfully submitted, PCBA manufacturing will enter PCBCart's ERP system so that customers are allowed to get aware of manufacturing procedure. And, PCBA manufacturing can be effectively implemented as well.
Step#4: Once bare PCBs and components are available, the SMT assembly line starts to run, going through solder paste printing, SPI, components placement, reflow soldering, AOI etc. with PCBA manufacturing successfully completed.
Result and Customer Testimonial
This project has witnessed successfully-assembled PCBs with a volume of 992 (8 for prototype) among which only 1 piece isn't accepted until rework. Moreover, this batch of assembled PCBs reaches a 99.99% yield based on the implementation of BGA programming test, power-on test and drop test. The following image shows the final look of MicroTech Medical's assembled circuit boards.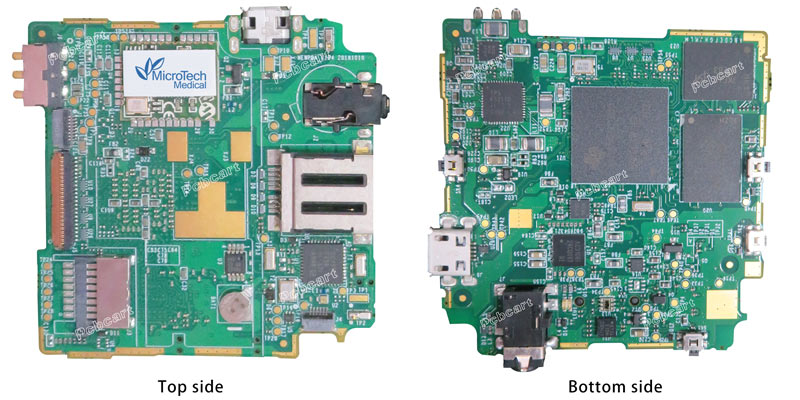 MicroTech Medical shows great satisfaction to the result. Quite satisfied with products and service quality, long-term cooperation is expected between MicroTech Medical and PCBCart.
PCBCart features high reliability on PCB assembly manufacturing and especially performs professionally and excellently in 0201 placement. Owing to the collaboration between manufacturing department and customer service department, both performance and turnaround time of this batch of motherboards are guaranteed so that we're quite satisfied with the service provided by PCBCart. Furthermore, we've been expecting to obtain more surprises from PCBCart.
By Quality Department of MicroTech Medical
PCBCart's One-Stop Electronics Assembly Service
One-stop electronics assembly service provided by PCBCart covers PCB Fabrication, components sourcing and PCB assembly. Sticking to high quality, high efficiency and low cost, PCBCart has been serving one-stop electronics assembly service for more than a decade since its establishment in 2005.
Up to now, PCBCart's been serving 10,000+ customers from 80+ countries around the globe. Due to high-quality products and service, PCBCart has won 99% customer satisfaction rate. PCBCart is ready to serve you as well.