HDI PCB
HDI PCB Specification
High density interconnect (HDI) PCBs represent one of the fastest-growing segments of the printed circuit board market. Because of its higher circuitry density, the HDI PCB design is able to incorporate finer lines and spaces, smaller vias and capture pads, and higher connection pad densities. A high density PCB features blind and buried vias and often contains microvias that are .006 in diameter or even less.
Key HDI PCB Benefits
The evolution of high density PCB technology has given engineers greater design freedom and flexibility than ever before. Designers now have the ability to place more components on both sides of the raw PCB if desired. In essence, an HDI PCB gives designers more space to work with, while allowing them to place smaller components even closer together. This ultimately results in faster signal transmission along with enhanced signal quality.
HDI PCB is widely used to reduce the weight and overall dimensions of products, as well as enhancing the electrical performance of the device. It's regularly found in mobile phones, touch-screen devices, laptop computers, digital cameras, 4G network communications, also prominently featured in medical devices as well as various electronic aircraft parts and components.
High Density PCBs of Impeccable Quality
Over the course of a decade in business, PCBCart has established a hard-earned reputation for manufacturing PCBs of the highest quality. Our custom PCB manufacturing capabilities enable you to get the finest quality HDI PCBs at competitive prices without min order quantity requirement. Our team run design for manufacture check on your custom PCB file and consult with you to ensure it is ready for manufacturing and that your boards will meet your performance requirements. We also have an on-site quality control department to verify the finished product meet your high quality standards.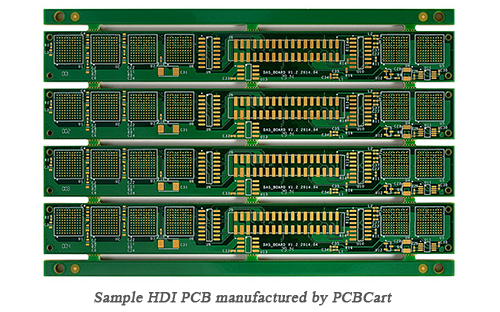 We're capable of manufacturing HDI PCB up to 24 layers in various structures, check the following table for our available HDI PCB structures:
| | | | | | |
| --- | --- | --- | --- | --- | --- |
| HDI Structures | Type of micorovias | Mass Production | Middle/Small Batch | Prototype | Available |
| 1+N+1 | Blind vias | Yes | Yes | Yes | 4 layers+ |
| 2+N+2 | Blind/Buried staggered vias | Yes | Yes | Yes | 6 layers+ |
| 2+N+2 | Blind/Buried stacked vias | Yes | Yes | Yes | 6 layers+ |
| 3+N+3 | Blind/Buried staggered vias | / | Yes | Yes | 8 layers+ |
| 3+N+3 | Blind/Buried stacked vias | / | / | Yes | 8 layers+ |
Check our HDI PCB capabilities by reviewing the table found below:
Features
Capability
Quality Grade
Standard IPC 2
Number of Layers
4 - 24layers
Order Quantity
1pc - 10000+pcs
Build Time
2days - 5weeks
Material
FR4 standard Tg 140°C,FR4 High Tg 170°C, FR4 and Rogers combined lamination
Board Size
Min 6*6mm | Max 457*610mm
Board Thickness
0.4mm - 3.0mm
Copper Weight (Finished)
0.5oz - 2.0oz
Min Tracing/Spacing
2.5mil/2.5mil
Solder Mask Sides
As per the file
Solder Mask Color
Green, White, Blue, Black, Red, Yellow
Silkscreen Sides
As per the file
Silkscreen Color
White, Black, Yellow
Surface Finish
HASL - Hot Air Solder Leveling
Lead Free HASL - RoHS
ENIG - Electroless Nickle/Immersion Gold - RoHS
Immersion Silver - RoHS
Immersion Tin - RoHS
OSP - Organic Solderability Preservatives - RoHS
Min Annular Ring
4mil, 3mil - laser drill
Min Drilling Hole Diameter
6mil, 4mil - laser drill
Max Exponents of Blind/Buried Vias
stacked vias for 3 layers interconnected, staggered vias for 4 layers interconnected
Other Techniques
Flex-rigid combination
Via In Pad
Buried Capacitor (only for proto boards with total area smaller than 1m²)
Order HDI PCB Manufacturing Service Online Today
For HDI PCB production price, please send your PCB file (Gerber format of file preferred, read our Preorder Checklist first) & requirements to sales@pcbcart.com, we'll quote ASAP.
If your high density PCB project requires specifications which are not listed in the above table, feel free to reach us through our Online Chat tool or directly email our engineers at tech@pcbcart.com.