To optimize customers' expectations on both low cost and scheduled time spent on their projects, PCBCart started to provide PCB fabrication and assembly service under one roof years ago. Certified by ISO 9001:2008, UL and RoHS, coupled with more than 10 years' experience and over 99% customer satisfaction rate in this industry, We have obtained sufficient high PCB assembly capabilities to provide high quality assembly services under highly rigorous quality standards and regulations.
We offer custom circuit assembly services ranging from prototype PCB assembly, low-to-middle volume PCB assembly to high volume PCB assembly. We can do RoHS compliant lead-free assembly and non-RoHS assembly to conformal coating based on your custom needs. Even better, all of our clients can benefit from our years' smooth cooperative relationship with authorized component distributors including Digikey, Mouser etc. and get quality guaranteed components at cheap prices.
Our specific PCB assembly capabilities can be summarized into the following table.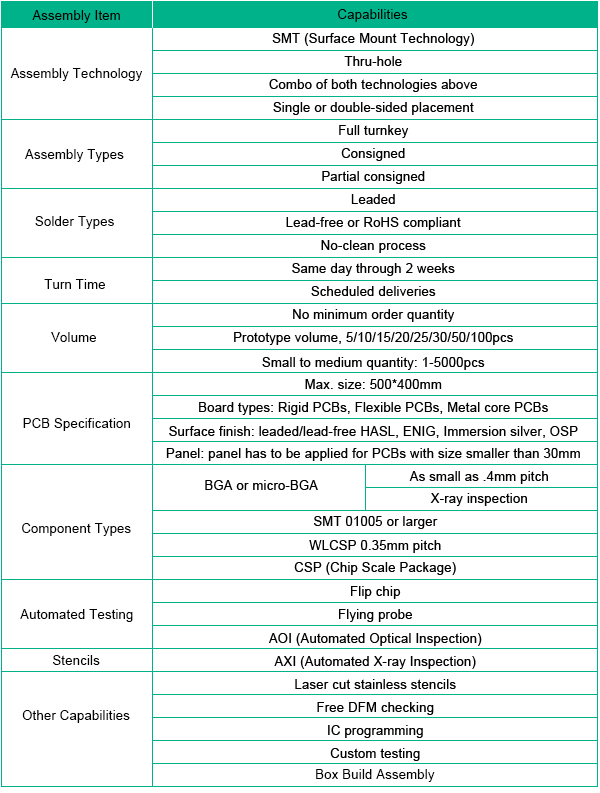 To ensure high quality of PCB assembly services, we carries out inspections in assembly production line so that SMT defects can be found at an early stage of assembly prior to their flooding among remaining products. Moreover, from Automated Optical Inspection (AOI), Automated X-ray Inspection(AXI) to flying probe test, all of those implementations are carried out by machines automatically, which tremendously increases our circuit boards assembly efficiency.
When it comes to assembly equipment, PCBCart holds all the equipment that is essential to the integrated SMT production line, including Solder paste printer, Chip mounting equipment, Reflow oven, V-cutting equipment, Cleaning equipment, BGA rework equipment, Wave solder equipment, etc.
In brief, we have multiple options to guarantee your PCB project to be completed with high performance, reasonable cost and in time. If your custom PCB project requires special operation, don't hesitate to reach us at tech@pcbcart.com. We're always happy to discuss and offer customize services.
PCB Assembly quotation is always free and welcomed. Just send your PCB design file, BOM and requirements to sales@pcbcart.com, we'll quote within 1-2 working days.